Namecheap was founded all the way back in 2000 by Richard Kirkendall.
Over the past 20+ years, they've reportedly racked up over 11 million registered users.
Domain names are the name of Namecheap's game (sorry, couldn't resist), with over seven million under their control.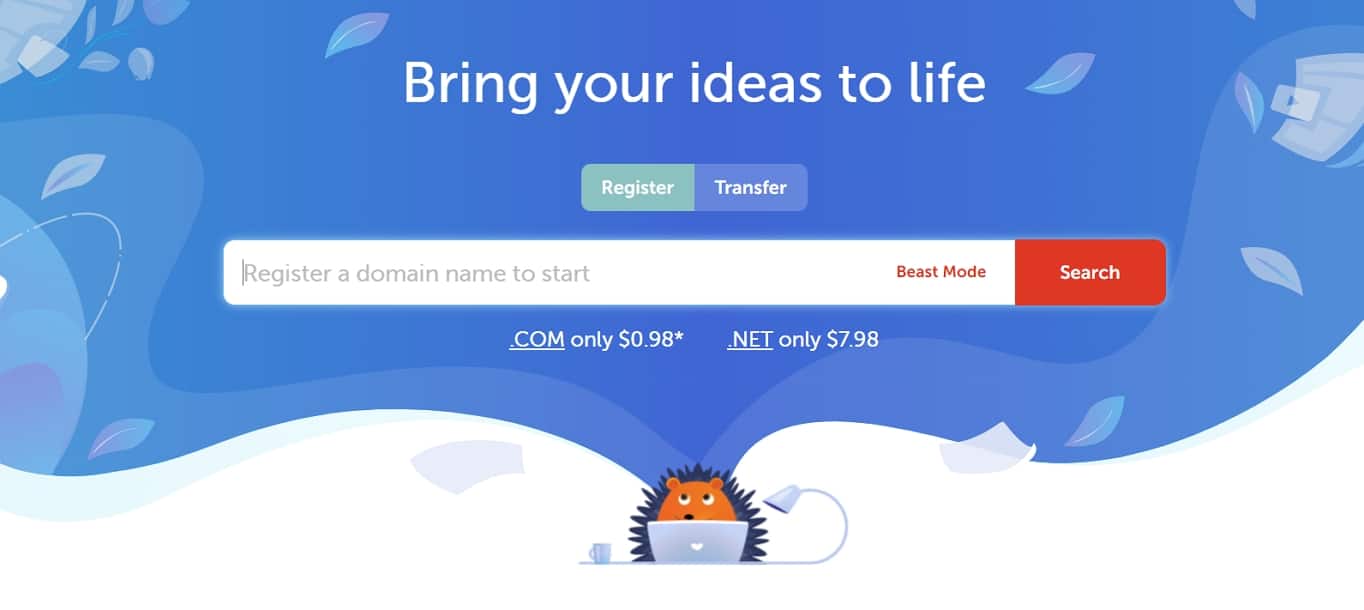 But here's the thing:
We've seen this story before; Hosting A is good at X, so they leverage their brand name and deep pockets to muscle into new service Y. It doesn't necessarily mean that they're any good at it.
So what's the deal with Namecheap?
Have they been able to replicate their domain name success in a new arena? Or are they simply trading on their name alone? (Pun definitely intended.)
We signed up for their hosting service, purchased the least expensive plan, and set up a test website to track performance stats like uptime and speed.
Is Namecheap good enough to get our recommendation?
Read on to find out.
General Info & Hosting Overview
---
| | |
| --- | --- |
| Our Rating: | Our Verdict: 4.0 |
| SPEED: | 319 ms (February 2022 to July 2022) |
| UPTIME: | 99.89% (February 2022 to July 2022) |
| SUPPORT: | 24/7 Live Chat, Ticketing, and Knowledge Base |
| APPS: | 100+ Apps with 1-Click Install, Including WordPress, Joomla, Drupal, Magento, and more. |
| FEATURES: | Unmetered Bandwidth, 20 GB SSD Disk Space, 30 Email Accounts, SpamAssassin, Backups, Google Apps, 30-Day Money-Back Guarantee, Three Hosted Domains, Website Builder, Free CDN, Free SSL |
| HOSTING PLANS: | Shared, WordPress, VPS, Reseller, Private Email, and Dedicated Hosting |
| SITE TRANSFER: | Free |
| PRICING: | Starting at $1.88/mo (renews at $4.48/mo) |
---
Pros of Using Namecheap Hosting
---
Namecheap starts strong with a free domain name, speed, uptime, migrations, and extra plan features like backups.
Here are the full details:
1. Free Domain and Migration
Namecheap excels at domain names. So it only makes sense that they'll happily throw one in if you sign up for their hosting plan. It's free for the first year only, though. After that, you'd have to pay the renewal price of the domain. For example, for .com it's $7.98/year.
If you already have a website set up somewhere else, they'll also help you migrate the service for free. For a full cPanel migration, Namecheap guarantees to do it in less than 24 hours and with no more than 15 minutes of downtime. If they fail (or you're not completely satisfied with how the migration went), they'll credit your account with the value of your first purchase of shared hosting.
2. Fast Loading Time 319 ms
After the uptime, the second most important criterion is speed. The reason it's so important is that speed has been directly correlated with visitor happiness.
Google recently found that the probability of someone bouncing increases over 100% if your pages take up to six seconds to load.
So yes, you need your site to stay alive. If that site is slow, then it's almost as bad. Your site might as well be down because people will be leaving in droves.
Namecheap has been able to post an average page speed of 319 ms over the past 6 months, which easily puts them in the top 10 fastest hosts we've reviewed.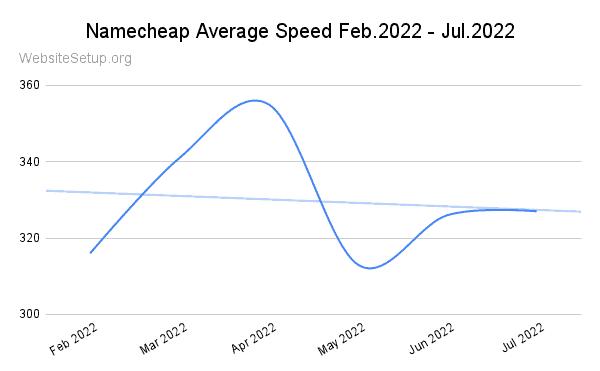 3. 30-day Money-Back Guarantee
Namecheap does offer a rock-solid 30-day money-back guarantee. You've got a full month to see if their service is right for you. Otherwise, it's not too late to back out and try something else.
4. Fully-Loaded Value Plan
We've reviewed many hosts to date.
And for each one, we typically sign up for the most basic plan to set up our test website.
The reason is twofold:
We want to be able to base these reviews on real data and performance figures.
Most base-level plans at each hosting company are pretty similar.
In other words – this allows us to compare apples to apples (for the most part). Each shared offer is fairly similar, with the same features offered on each.
Namecheap surprised us, though.
First, they offered unmetered bandwidth on their cheapest plan. They also give you access to standard features like cPanel access and apps like WordPress.
Their cheapest plan also includes a free SSL certificate for the first year.
You also get twice-a-week backups, just in case things go haywire while updating your new site.
The best part about their cheapest offer is that you get 50 MySQL databases (which is way more than what most companies offer on a similar tier).
Plus, you can set up three websites on this plan. Most base-level hosting plans only allow you to host one single website. This is a great value if you have several sites, like a business and a personal one.
They also give you up to 30 email addresses right out of the gate, too.
This can add up to huge cost savings over time.
5. Third-Party Reviews Are Excellent
We always like to get a pulse from existing customers to make sure each review isn't just based on our own isolated experience.
We'll admit:
We were pleasantly surprised at some of the customer reviews online.
For instance, they have a solid 4.7-star rating on Shopper Reviewed. Supposedly that's based on over a million reviews.

6. Good Customer Support
Namecheap offers customer support via ticketing and a live chat. They also have an extensive help center where you can browse their knowledge base, blog, and several different guides and videos.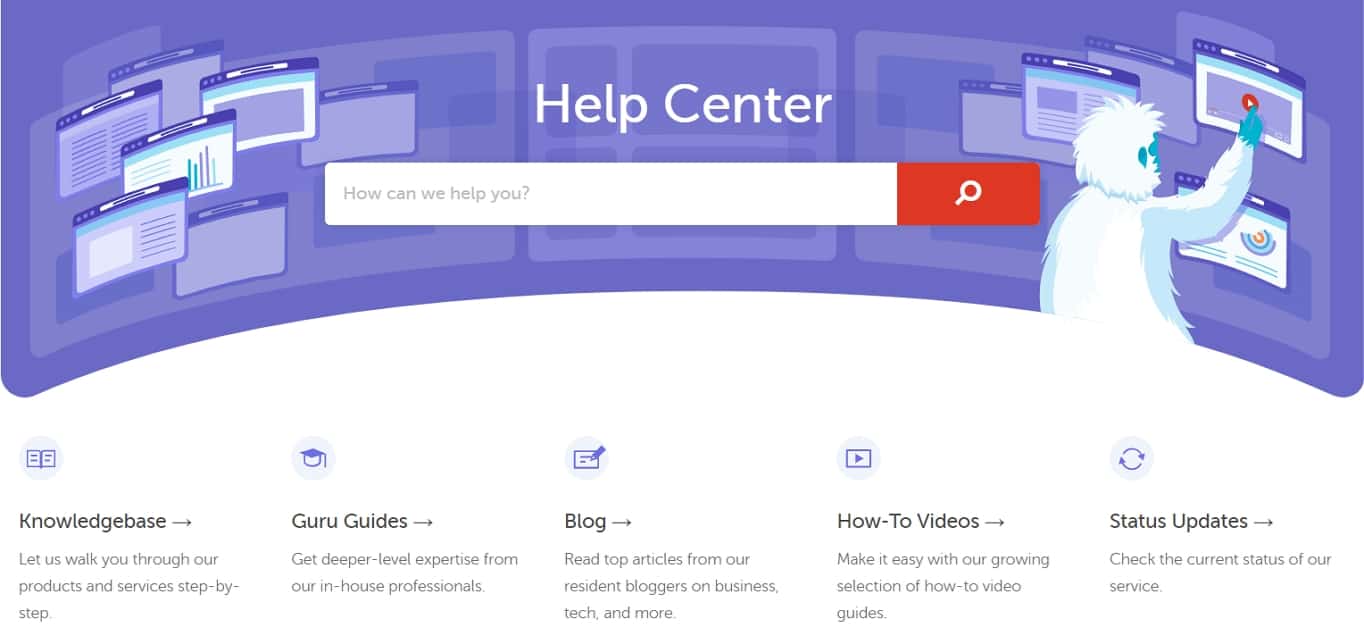 We also like to try out live chats to get a feel for their service.
We asked some questions about their shared hosting plans and site migrations and the customer support rep was knowledgeable and fast to answer.
Overall, we can say that Namecheap provides professional support in a timely manner.
Cons of Using Namecheap Hosting
---
There are three major categories we look at when considering a new web host:
Uptime: Can this host keep my site live the vast majority of the time?
Speed: Can this host deliver a good experience for visitors so they'll want to come back?
Support: And can this host help me when things spin out of control?
And if you paid attention, you must have noticed that one of the categories hasn't shown up yet.
Let's have a closer look.
1. Lack of Datacenters
Namecheap has data centers in the US, UK, and now also in Europe.
Their shared, VPS and reseller servers are located in Phoenix, Arizona and the UK data centers are in Nottingham.
That's not much. Especially compared to some hosts who have more than 20 data centers around the world.
Moreover, you'd have to pay $1.00/month extra if you choose the UK and Europe data center.
2. Poor Uptime – 99.89%
Uptime is one of the most important criteria to look for in a host and it's something that we always test.
Unfortunately, Namecheap delivered a poor 99.89% uptime during the past 6 months. It almost fits the minimum criteria of uptime between 99.91% and 99.93%, but for now, we have to keep them in our cons section.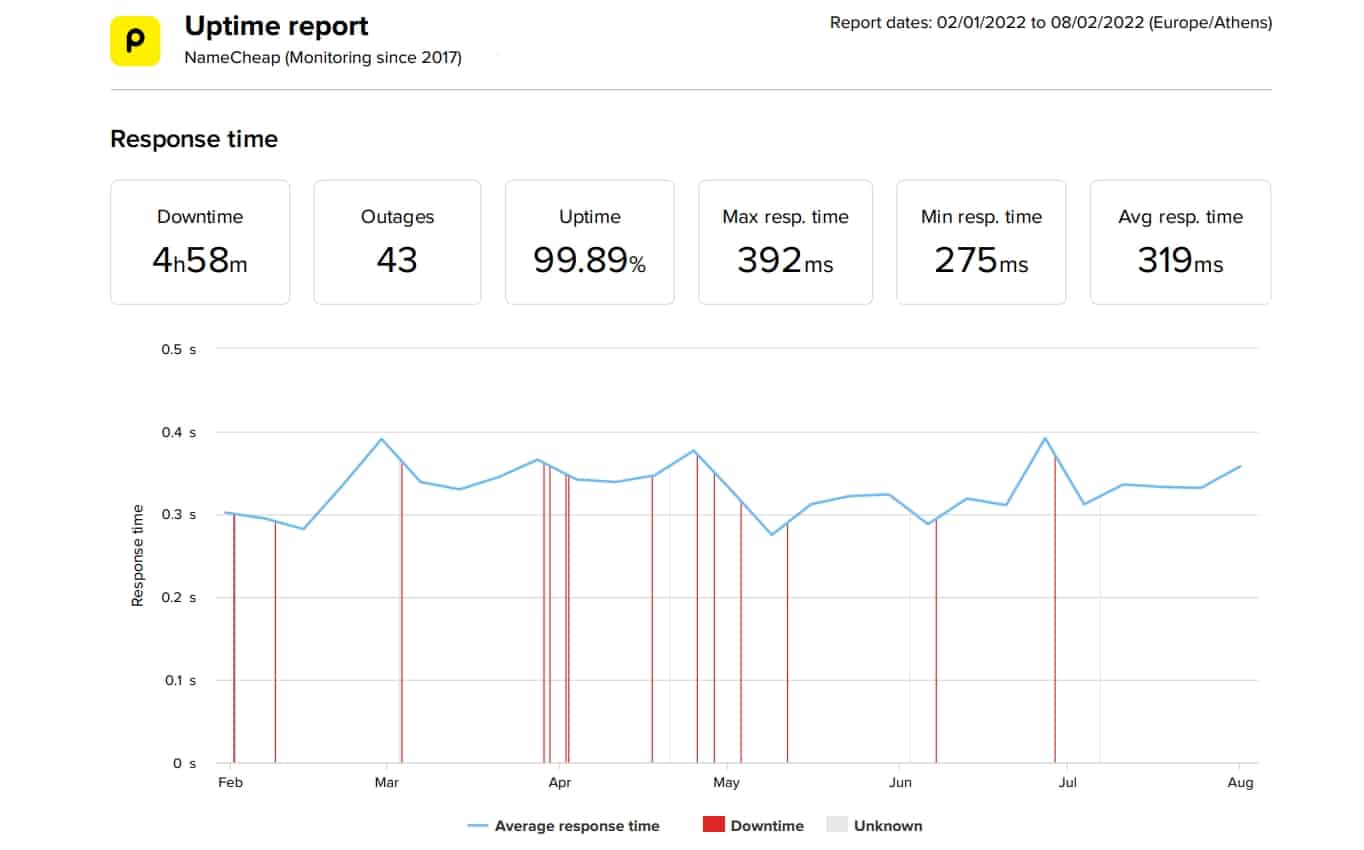 Last 6-month average uptime:
July 2022: 100%
June 2022: 99.78%
May 2022: 99.99%
April 2022: 99.77%
March 2022: 99.87%
February 2022: 99.89%
Namecheap Pricing, Hosting Plans & Quick Facts
Here's a quick overview of the hosting plans offered by Namecheap:
---
Stellar Plan
Stellar Plus Plan
Stellar Business Plan
Pricing
$1.88/month
Renews at $4.48/mo
$2.88/month
Renews at $6.48/mo
$4.48/month
Renews at $9.48/mo
Websites
3
Unlimited
Unlimited
Bandwidth
Unmetered
Unmetered
Unmetered
Storage
20 GB
Unmetered
50 GB
Email Accounts
30
Unlimited
Unlimited
Other Features
–
• AutoBackup
• AutoBackup
• Cloud Storage
---
These prices apply when you sign up with Namecheap for two years. If you choose the annual plan, the monthly price would be $1.48/month and the monthly option would cost you $4.48/month.
Quick Facts
Free domain?: Yes, the first year is free.
Ease of Signup: Easy signup process.
Money-Back: 30-days money-back guarantee.
Payment Methods: Credit cards, PayPal, Dwolla, and Bitcoin.
Hidden Fees and Clauses: There are two important disclaimers to keep in mind:

"This offer is available for new hosting purchases only. The promotional price is valid for the first 12 months on annual payments, after which the hosting service will renew at the regular rate as indicated in the package specs. Upgrades/downgrades will be performed at the full renewal price."
"Unmetered disk space is offered with our Ultimate package. This disk space is solely intended for your website and not for other storage purposes. This space must be used in accordance with our AUP, particularly paragraph 10.2."

Upsells: A few upsells along the way.
Account Activation: Fast account activation.
Control Panel and Dashboard Experience: cPanel.
Installation of Apps and CMSs (WordPress, Joomla, etc.): 1-click installation tool to easily install popular apps and CMSs.
Do We Recommend Namecheap?
Yes, we do.
They started out pretty well. Existing customers seem to like them, and the fact that their cheapest plan compares favorably to most other companies' upper-tier ones looks promising.
We also like their fast-speed results that make Namecheap a reliable host.
However, we wish that they would have more data centers to choose from and the uptime is a bit too unstable for us.
Overall, Namecheap is definitely a good host, but there are some better options available.